Blake's 7 - The Ultimate Audio Collection - B7, BBC, Big Finish, and Magic Bullet - Various
Shared by:smythers1977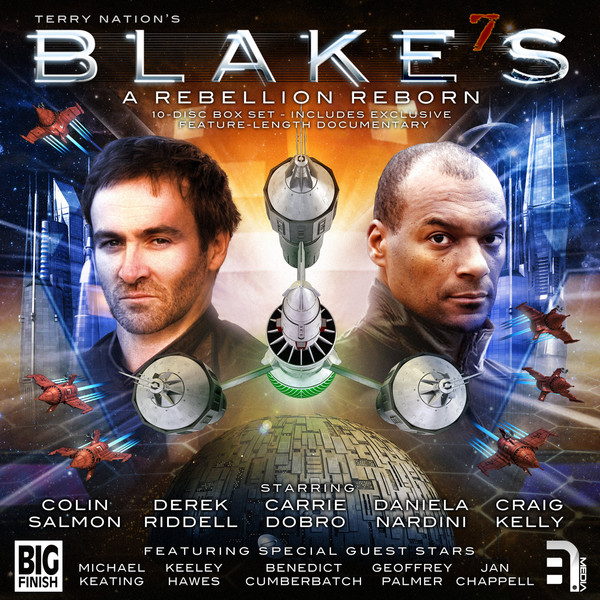 Written by Various
Read by Gareth Thomas; Paul Darrow; Michael Keating; Chappell; Sally Knyvette;
Format: MP3
Dramatization
This is the LARGEST and most complete collection of Blake's 7 audio dramas out there. Included in this collection are the recent Big Finish series: including "new" classical episodes (concluded in 2016 upon the death of Gareth Thomas), the Liberator Chronicles (narrated self-contained stories about the characters), and the new Lucifer Trilogy (only books 1 and 2 are currently out), read by the wonderful Paul Darrow, that prove to be a satisfying sequel to the original series.
Also included in this collection are from B7 Radio "The Early Years" that give background development on all the characters, the "Rebel" "Traitor" and "Liberator" trilogy, which more or less sums up the whole life of Roj Blake, and also an old BBC production of Blake's 7 that re-tells the story of the show, but with different actors.
Blake's 7 was made in the studios right next to Doctor Who and was regarded by many British people as being Doctor Who's "little brother." Terry Nation created this great series back in 1978. The special effects are awful but the plots are pretty well done. It is ironic that a show called Blake's 7 actually only featured its titular character for two full seasons. Paul Darrow took over as the Captain of the Liberator after Series 2 as the wonderful Kerr Avon, everybody's favorite bad boy.
Finally, I have included in this collection a special bonus of three audios by Magic Bullet Productions. Magic Bullet would later go on to create Kaldor City, staring Paul Darrow. It's probably my favorite spinoff series. The three plays presented here by Magic Bullet cannot be sound anywhere at this time, not even the Magic Bullet website. It took me forever to find them in various places online. These are The Logic of Empire, The Mark of Kane, and Travis: The Final Act.
If anyone is interested in the Blake's 7 TV series, it is available on YouTube. Or, you can put in the comments section that you are, and I could put them on another tracker for you!
ENJOY Blake's 7! Did you know that originally the aliens that attack the Federation were supposed to the Daleks? Terry Nation wanted to connect the two universes into one. This was later done with the advent of some characters from Blake's 7 appearing in Kaldor City. The main character in Kaldor City bears a remarkable resemblance to Kerr Avon.
Many later shows owe a lot to Blake's 7, in particular Farscape and Dark Matter were based very closely on the premise of this old series. In 2013, money was earmarked for a Galactica type re-boot of the series, although this was never realized. The last book in the Lucifer trilogy, written and read by Paul Darrow himself, will be out this spring.
Announce URL:
udp://tracker.yoshi210.com:6969/announce
This Torrent also has several backup trackers
Tracker:
udp://tracker.yoshi210.com:6969/announce
Tracker:
http://tracker1.infohash.org/announce
Tracker:
udp://tracker.leechers-paradise.org:6969
Tracker:
udp://tracker.coppersurfer.tk:6969
Tracker:
udp://explodie.org:6969/announce
Tracker:
udp://tracker.desu.sh:6969
Tracker:
udp://tracker.opentrackr.org:1337/announce
Tracker:
udp://tracker.tiny-vps.com:6969/announce
Tracker:
udp://tracker.vanitycore.co:6969/announce
Tracker:
http://tracker.baravik.org:6970/announce
Tracker:
http://tracker2.wasabii.com.tw:6969/announce
Creation Date:
Tue, 17 Jan 2017 17:40:12 -0500
This is a Multifile Torrent
B7 Productions B7 01 - Rebel.mp3 53.58 MBs
B7 Productions B7 02 - Traitor.mp3 53.45 MBs
B7 Productions B7 03 - Liberator.mp3 52.25 MBs
BBC Radio B7 01 - The Sevenfold Crown.mp3 82.97 MBs
BBC Radio B7 02 - The Syndeton Experiment.mp3 52.49 MBs
BBC Radio B7 03 - The Making Of The Audio Series.mp3 21.21 MBs
Big Finish Productions Classic Audio Adventures Volume 1 AlbumArtSmall.jpg 8.15 KBs
Big Finish Productions Classic Audio Adventures Volume 1 B7 1×01 - Warship.mp3 60.56 MBs
Big Finish Productions Classic Audio Adventures Volume 1 B7 1×02 - Fractures.mp3 59.17 MBs
Big Finish Productions Classic Audio Adventures Volume 1 B7 1×03 - Battleground.mp3 67.38 MBs
Big Finish Productions Classic Audio Adventures Volume 1 B7 1×04 - Drones.mp3 71.43 MBs
Big Finish Productions Classic Audio Adventures Volume 1 B7 1×05 - Mirror.mp3 63.19 MBs
Big Finish Productions Classic Audio Adventures Volume 1 B7 1×06 - Cold Fury.mp3 135.12 MBs
Big Finish Productions Classic Audio Adventures Volume 1 B7 1×07 - Caged.mp3 64.96 MBs
Big Finish Productions Classic Audio Adventures Volume 1 Folder.jpg 43.19 KBs
Big Finish Productions Classic Audio Adventures Volume 2 AlbumArtSmall.jpg 9.32 KBs
Big Finish Productions Classic Audio Adventures Volume 2 B7 2×01 - Scimitar.mp3 138.22 MBs
Big Finish Productions Classic Audio Adventures Volume 2 B7 2×02 - Fortuitas.mp3 133.02 MBs
Big Finish Productions Classic Audio Adventures Volume 2 B7 2×03 - Mindset.mp3 128.06 MBs
Big Finish Productions Classic Audio Adventures Volume 2 B7 2×04 - Ghost Ship.mp3 124.61 MBs
Big Finish Productions Classic Audio Adventures Volume 2 B7 2×05 - Devil's Advocate.mp3 119.7 MBs
Big Finish Productions Classic Audio Adventures Volume 2 B7 2×06 - Truth and Lies.mp3 68.65 MBs
Big Finish Productions Classic Audio Adventures Volume 2 Folder.jpg 32.66 KBs
Big Finish Productions Liberator Chronicles Volume 1 AlbumArtSmall.jpg 7.91 KBs
Big Finish Productions Liberator Chronicles Volume 1 B7 1×01 - The Turning Test.mp3 57.93 MBs
Big Finish Productions Liberator Chronicles Volume 1 B7 1×02 - Solitary.mp3 54.69 MBs
Big Finish Productions Liberator Chronicles Volume 1 B7 1×03 - Counterfeit.mp3 57.42 MBs
Big Finish Productions Liberator Chronicles Volume 1 Folder.jpg 38.79 KBs
Big Finish Productions Liberator Chronicles Volume 10 B7 10×01 - Velandra.mp3 119.09 MBs
Big Finish Productions Liberator Chronicles Volume 10 B7 10×02 - Retribution.mp3 94.4 MBs
Big Finish Productions Liberator Chronicles Volume 10 B7 10×03 - Ministry of Peace.mp3 102.88 MBs
Big Finish Productions Liberator Chronicles Volume 10 BF – B7 LC - 10.jpg 100.34 KBs
Big Finish Productions Liberator Chronicles Volume 11 AlbumArtSmall.jpg 3.32 KBs
Big Finish Productions Liberator Chronicles Volume 11 B7 11×01 - Brother.mp3 93.67 MBs
Big Finish Productions Liberator Chronicles Volume 11 B7 11×02 - Poison.mp3 79.42 MBs
Big Finish Productions Liberator Chronicles Volume 11 B7 11×03 - Escape from Destiny.mp3 75.76 MBs
Big Finish Productions Liberator Chronicles Volume 11 B7 11×04 - When Vila Met Gan.mp3 24.32 MBs
Big Finish Productions Liberator Chronicles Volume 11 Folder.jpg 10.51 KBs
Big Finish Productions Liberator Chronicles Volume 12 AlbumArtSmall.jpg 7.69 KBs
Big Finish Productions Liberator Chronicles Volume 12 B7 12×01 - Corners of the Mind.mp3 59.82 MBs
Big Finish Productions Liberator Chronicles Volume 12 B7 12×02 - Capital.mp3 67.7 MBs
Big Finish Productions Liberator Chronicles Volume 12 B7 12×03 - Punishment.mp3 57.47 MBs
Big Finish Productions Liberator Chronicles Volume 12 Folder.jpg 40.28 KBs
Big Finish Productions Liberator Chronicles Volume 12 TLC12.jpg 136.83 KBs
Big Finish Productions Liberator Chronicles Volume 2 AlbumArtSmall.jpg 7.75 KBs
Big Finish Productions Liberator Chronicles Volume 2 B7 2×01 - The Magnificent Four.mp3 57.66 MBs
Big Finish Productions Liberator Chronicles Volume 2 B7 2×02 - False Positive.mp3 56.68 MBs
Big Finish Productions Liberator Chronicles Volume 2 B7 2×03 - Wolf.mp3 63.91 MBs
Big Finish Productions Liberator Chronicles Volume 2 Folder.jpg 39.34 KBs
Big Finish Productions Liberator Chronicles Volume 3 AlbumArtSmall.jpg 7.91 KBs
Big Finish Productions Liberator Chronicles Volume 3 B7 3×01 - The Armageddon Storm - Part 1.mp3 52.37 MBs
Big Finish Productions Liberator Chronicles Volume 3 B7 3×02 - The Armageddon Storm - Part 2.mp3 50.06 MBs
Big Finish Productions Liberator Chronicles Volume 3 B7 3×03 - The Armageddon Storm - Part 3.mp3 57.39 MBs
Big Finish Productions Liberator Chronicles Volume 3 Folder.jpg 40.22 KBs
Big Finish Productions Liberator Chronicles Volume 4 AlbumArtSmall.jpg 7.66 KBs
Big Finish Productions Liberator Chronicles Volume 4 B7 4×01 - Promises.mp3 56.47 MBs
Big Finish Productions Liberator Chronicles Volume 4 B7 4×02 - Epitaph.mp3 55.59 MBs
Big Finish Productions Liberator Chronicles Volume 4 B7 4×03 - Kerr.mp3 65.7 MBs
Big Finish Productions Liberator Chronicles Volume 4 Folder.jpg 38.34 KBs
Big Finish Productions Liberator Chronicles Volume 5 B7 5×01 - Logic.mp3 128.88 MBs
Big Finish Productions Liberator Chronicles Volume 5 B7 5×02 - Risk Management.mp3 96.71 MBs
Big Finish Productions Liberator Chronicles Volume 5 B7 5×03 - Three.mp3 122.26 MBs
Big Finish Productions Liberator Chronicles Volume 5 b7set5cover_image_large.jpg 120.77 KBs
Big Finish Productions Liberator Chronicles Volume 6 B7 6×01 - Incentive.mp3 131.1 MBs
Big Finish Productions Liberator Chronicles Volume 6 B7 6×02 - Jenna's Story.mp3 134.45 MBs
Big Finish Productions Liberator Chronicles Volume 6 B7 6×03 - Blake's Story.mp3 137.45 MBs
Big Finish Productions Liberator Chronicles Volume 6 liberator-chronicles-the-vol-6-cover.jpg 1.57 MBs
Big Finish Productions Liberator Chronicles Volume 7 B7 7×01 - Spy.mp3 103.87 MBs
Big Finish Productions Liberator Chronicles Volume 7 B7 7×02 - Disorder.mp3 96.97 MBs
Big Finish Productions Liberator Chronicles Volume 7 B7 7×03 - The Hard Road.mp3 106.19 MBs
Big Finish Productions Liberator Chronicles Volume 7 Blake's 7 - The Liberator Chronicles - Volume 7.jpg 142.86 KBs
Big Finish Productions Liberator Chronicles Volume 8 B7 8×01 - President.mp3 129.29 MBs
Big Finish Productions Liberator Chronicles Volume 8 B7 8×02 - The Sea of Iron.mp3 128.32 MBs
Big Finish Productions Liberator Chronicles Volume 8 B7 8×03 - Spoils.mp3 134.82 MBs
Big Finish Productions Liberator Chronicles Volume 9 B7 9×01 - Defector.mp3 107.78 MBs
Big Finish Productions Liberator Chronicles Volume 9 B7 9×02 - Planetfall.mp3 110.47 MBs
Big Finish Productions Liberator Chronicles Volume 9 B7 9×03 - Secrets.mp3 106.16 MBs
Big Finish Productions Liberator Chronicles Volume 9 Blake's 7 - Liberator Chronicles - Volume 9.jpg 83.47 KBs
Big Finish Productions Lucifer Trilogy B7 01 - Lucifer.mp3 398.33 MBs
Big Finish Productions Lucifer Trilogy B7 02 - Lucifer - Revelation.mp3 417.2 MBs
Early Years AlbumArtSmall.jpg 8.12 KBs
Early Years B7 01 - Avon - Eye of the Machine.mp3 26.94 MBs
Early Years B7 02 - Cally - Blood & Earth.mp3 27.07 MBs
Early Years B7 03 - Jenna - The Dust Run.mp3 27.04 MBs
Early Years B7 04 - Jenna - The Trial.mp3 26.73 MBs
Early Years B7 05 - When Vila Met Gan.mp3 24.39 MBs
Early Years B7 06 - Zen - Escape Velocity.mp3 51.26 MBs
Early Years B7 07 - Travis - Point of No Return.mp3 33.01 MBs
Early Years B7 08 - Cally - Flag & Flame.mp3 33.02 MBs
Early Years Folder.jpg 40.57 KBs
Magic Bullet Productions B7 01 - The Logic of Empire.mp3 45.11 MBs
Magic Bullet Productions B7 02 - The Mark of Kane.mp3 46.13 MBs
Magic Bullet Productions B7 03 - Travis - The Final Act.mp3 79.54 MBs
Combined File Size:

5.88

GBs
Piece Size:

4

MBs
Comment:
Updated by AudioBook Bay
Encoding:
UTF-8
Info Hash:
834a72c07f5fd173bccd74e3d66b2b8705432e58
Torrent Download:
Torrent Free Downloads
Tips:
Sometimes the torrent health info isn't accurate, so you can download the file and check it out or try the following downloads.
Direct Download:
Download Files Now
Tips:
You could try out alternative bittorrent clients.
Secured Download:
Start Anonymous Download
AD: