Bridge to Terabithia (1977) - Katherine Paterson
Shared by:jodindy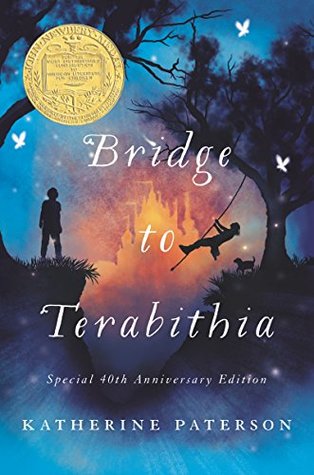 Written by Katherine Paterson
Read by Robert Sean Leonard
Format: MP3
Bitrate: 64 Kbps
Unabridged
Publisher: HarperCollins
Awards: Newbery Medal 1978
Release date: August 18, 2009
Duration: 03:30:19
This beloved Newbery Medal-winning novel by bestselling author Katherine Paterson is a modern classic of friendship and loss.
Jess Aarons has been practicing all summer so he can be the fastest runner in the fifth grade. And he almost is, until the new girl in school, Leslie Burke, outpaces him. The two become fast friends and spend most days in the woods behind Leslie's house, where they invent an enchanted land called Terabithia. One morning, Leslie goes to Terabithia without Jess and a tragedy occurs. It will take the love of his family and the strength that Leslie has given him for Jess to be able to deal with his grief.
Bridge to Terabithia was also named an ALA Notable Children's Book and has become a touchstone of children's literature, as have many of Katherine Paterson's other novels, including The Great Gilly Hopkins and Jacob Have I Loved.
This children's classic has been recorded several times, but Robert Sean Leonard has crafted a recording that earns its place among the best. Leonard brings Jess to life, his yearning and striving, his love for his family, and his secret pleasure–his art. Leonard imbues the story with emotion. Though he doesn't give all the characters their own voices, he builds their identities clearly. When Jess decides to allow Leslie into his world, we feel his caution but also his understanding of Leslie's difficult position, and we share the surprise as their friendship blossoms. And when tragedy strikes, we are there with Jess as he finds the strength and courage to go on. W.L.S. (c) AudioFile 2006
Contemporary instrumental interludes featuring guitar, piano and drums signal the beginning and end of each tape side.
So, you are an adult? Listen to this book. So much in this book will hit home, bring back memories or feeling long forgotten. A true classic.
Announce URL:
udp://tracker.opentrackr.org:1337/announce
This Torrent also has several backup trackers
Tracker:
udp://tracker.opentrackr.org:1337/announce
Tracker:
udp://tracker.tiny-vps.com:6969/announce
Tracker:
udp://tracker.torrent.eu.org:451/announce
Tracker:
udp://tracker.pirateparty.gr:6969/announce
Tracker:
udp://9.rarbg.me:2710/announce
Tracker:
udp://tracker.leechers-paradise.org:6969/announce
Tracker:
udp://tracker.open-internet.nl:6969/announce
Tracker:
udp://tracker.leechers-paradise.org:6969
Tracker:
udp://tracker.coppersurfer.tk:6969
Tracker:
udp://open.demonii.si:1337/announce
Tracker:
udp://thetracker.org:80/announce
Tracker:
http://tracker2.dler.org:80/announce
Creation Date:
Thu, 20 Jun 2019 01:01:50 +0100
This is a Multifile Torrent
01 - Harper Audio presents Bridge To Terabithia.mp3 5.99 MBs
02 - Chapter 2 Leslie Burke.mp3 6.25 MBs
03 - Chapter 3 The Fastest Kid In The 5th Grade.mp3 7.05 MBs
04 - Chapter 4 Rulers Of Terabithia.mp3 13.44 MBs
05 - Chapter 5 The Giant Killers.mp3 5.88 MBs
06 - Chapter 6 The Coming Of Prince Terrien.mp3 5.57 MBs
07 - Chapter 7 The Golden Room.mp3 9.03 MBs
08 - Chapter 8 Easter.mp3 5.36 MBs
09 - Chapter 9 The Evil Spell.mp3 5.19 MBs
10 - Chapter 10 The Perfect Day.mp3 6.1 MBs
11 - Chapter 11 No!.mp3 5.03 MBs
12 - Chapter 12 Stranded.mp3 5.1 MBs
13 - Chapter 13 Building The Bridge.mp3 8.07 MBs
14 - Interview with Katherine and David Paterson.mp3 8.27 MBs
Combined File Size:

96.32

MBs
Piece Size:

256

KBs
Comment:
Updated by AudioBook Bay
Encoding:
UTF-8
Info Hash:
9794f4dec9311d45fe393754f283b696fd8f27dc
Torrent Download:
Torrent Free Downloads
Tips:
Sometimes the torrent health info isn't accurate, so you can download the file and check it out or try the following downloads.
Direct Download:
Download Files Now
Tips:
You could try out alternative bittorrent clients.
Secured Download:
Start Anonymous Download
AD: