[Grail Quest 04] - 1356 - Bernard Cornwell
Shared by:OldScotsman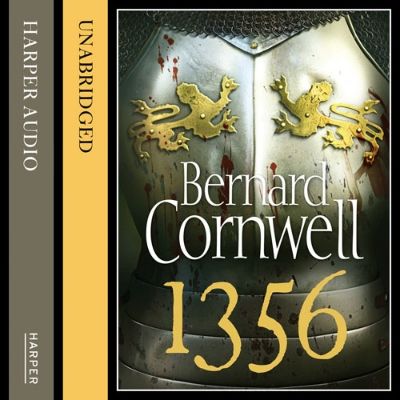 Written by Bernard Cornwell
Read by Jack Hawkins
Format: MP3
Bitrate: 80 Kbps
Unabridged
GENERAL INFORMATION
Book Title:………………..1356
Series Name:…………….Grail Quest
Series Number:………….04
Author:……………………Bernard Cornwell
Narrator:………………….Jack Hawkins
Genre:…………………….Historical Fiction
Publisher:…………………Harper Collins
ISBN……………………….9780 0074 78200
FILE INFORMATION
Source:……………………10 CDs
# of MP3 files:……………10
Total Runtime:…………..11 Hours Approx.
Total Size:………………..412 MB
Encoder:…………………..Fraunhofer [FhG] (Guess) - A secure rip using dBpoweramp
Converted To:……………80 Kb | CBR | 44,100 Hz | Mono
Converted Date:…………22 November 2012
Converted By:……………OldScotsman
ID3 Tags:…………………Includes Image and all info shown on this page (Smart Phone Ready)
If you would like to try another Bernard Cornwell Audio Book I have uploaded, the titles are listed below.
FOOLS AND MORTALS
http://audiobookbay.nl/audio-books/fools-and-mortals-bernard-cornwell/
[GRAIL QUEST 01] - HARLEQUIN aka ARCHER'S TALE
http://audiobookbay.nl/audio-books/grail-quest-01-harlequin-bernard-cornwell/
[GRAIL QUEST 02] - VAGABOND
http://audiobookbay.nl/audio-books/grail-quest-02-vagabond-bernard-cornwell/
[GRAIL QUEST 03] - HERETIC
http://audiobookbay.nl/audio-books/grail-quest-03-heretic-bernard-cornwell/
[GRAIL QUEST 04] - 1356
http://audiobookbay.nl/audio-books/grail-quest-04-1356-bernard-cornwell/
ABOUT THE BOOK
It is 1356. Go with God and Fight Like the Devil. A fascinating hero and the pursuit of a sword with mythical power - this is the remarkable new novel by Britain's master storyteller, which culminates at the Battle of Poitiers in 1356.
The Hundred Years War rages on and the bloodiest battles are yet to be fought. Across France, towns are closing their gates, the crops are burning and the country stands alert to danger. The English army, victorious at the Battle of Crécy and led by the Black Prince, is invading again and the French are hunting them down.
Thomas of Hookton, an English archer known as Le Bâtard, is under orders to seek out the lost sword of St Peter, a weapon said to grant certain victory to whoever possesses her. As the outnumbered English army becomes trapped near the town of Poitiers, Thomas, his men and his sworn enemies meet in an extraordinary confrontation that ignites one of the greatest battles of all time.
ABOUT THE AUTHOR
Bernard Cornwell was born in London in 1944 - a 'warbaby' - whose father was a Canadian airman and mother in Britain's Women's Auxiliary Air Force. He was adopted by a family in Essex who belonged to a religious sect called the Peculiar People (and they were), but escaped to London University and, after a stint as a teacher, he joined BBC Television where he worked for the next 10 years. He began as a researcher on the Nationwide programme and ended as Head of Current Affairs Television for the BBC in Northern Ireland. It was while working in Belfast that he met Judy, a visiting American, and fell in love. Judy was unable to move to Britain for family reasons so Bernard went to the States where he was refused a Green Card. He decided to earn a living by writing, a job that did not need a permit from the US government - and for some years he had been wanting to write the adventures of a British soldier in the Napoleonic wars - and so the Sharpe series was born. Bernard and Judy married in 1980.
ABOUT THE READER
Jack Hawkins has a vibrant, expressive, youthful voice and admirably delivers the author's text and keeps the listener interested, He adds an inviting personality of his own.
Remember, we have uploaded these books just for you because we wish to SHARE them. It is only right therefore, you SHARE them with others, and the only way you can do this, is to keep SEEDING. In other words, don't stop after you have finished the download. Check and make sure your torrent program is set to continue uploading even after the downloading has been completed. A ratio of 2.0 means you are giving back twice what you have received, the book won't die and all our efforts have not been wasted but 5.0 would be outstanding and shows you have really entered into the spirit of what we are about. WE DO OUR BIT AND YOU DO YOUR BIT, sounds fair, doesn't it. If you are new to this and don't understand, send me a Personal Message in the Forum, not in the comments section below. If I can't help, I know someone who can.
Announce URL:
udp://tracker.coppersurfer.tk:6969/announce
This Torrent also has several backup trackers
Tracker:
udp://inferno.demonoid.pw:3393/announce
Tracker:
udp://p4p.arenabg.com:1337/announce
Tracker:
udp://tracker.torrent.eu.org:451/announce
Tracker:
udp://shadowshq.yi.org:6969/announce
Tracker:
http://tracker.baravik.org:6970/announce
Tracker:
http://tracker2.wasabii.com.tw:6969/announce
Tracker:
udp://tracker.leechers-paradise.org:6969
Tracker:
udp://tracker.coppersurfer.tk:6969
Tracker:
udp://tracker.desu.sh:6969
Tracker:
udp://inferno.demonoid.pw:3399/announce
Creation Date:
Mon, 23 Feb 2015 11:45:36 -0500
This is a Multifile Torrent
1356 Rear.jpg 697.17 KBs
1356 Front.jpg 568.31 KBs
1356 - Information File.txt 3.33 KBs
1356.jpg 69.91 KBs
Bernard Cornwell.jpg 18.47 KBs
Torrent downloaded from Demonoid.pw.txt 38 Bytes
Jack Hawkins.jpg 101.85 KBs
1356 - CD 10.mp3 23.11 MBs
1356 - CD 09.mp3 40.15 MBs
1356 - CD 04.mp3 43.38 MBs
1356 - CD 03.mp3 42.48 MBs
1356 - CD 02.mp3 44.14 MBs
1356 - CD 05.mp3 44.77 MBs
1356 - CD 06.mp3 42.95 MBs
1356 - CD 08.mp3 41.66 MBs
1356 - CD 07.mp3 45.16 MBs
1356 - CD 01.mp3 43.57 MBs
Combined File Size:

412.8

MBs
Piece Size:

256

KBs
Comment:
Updated by AudioBook Bay
Info Hash:
35e4b6c13aeba1632babf4492c87e97324ac59cf
Torrent Download:
Torrent Free Downloads
Tips:
Sometimes the torrent health info isn't accurate, so you can download the file and check it out or try the following downloads.
Direct Download:
Download Files Now
Tips:
You could try out alternative bittorrent clients.
Secured Download:
Start Anonymous Download
AD: