Steel Brothers Saga Series Bks 1-11 - Helen Hardt
Shared by:Shappy2014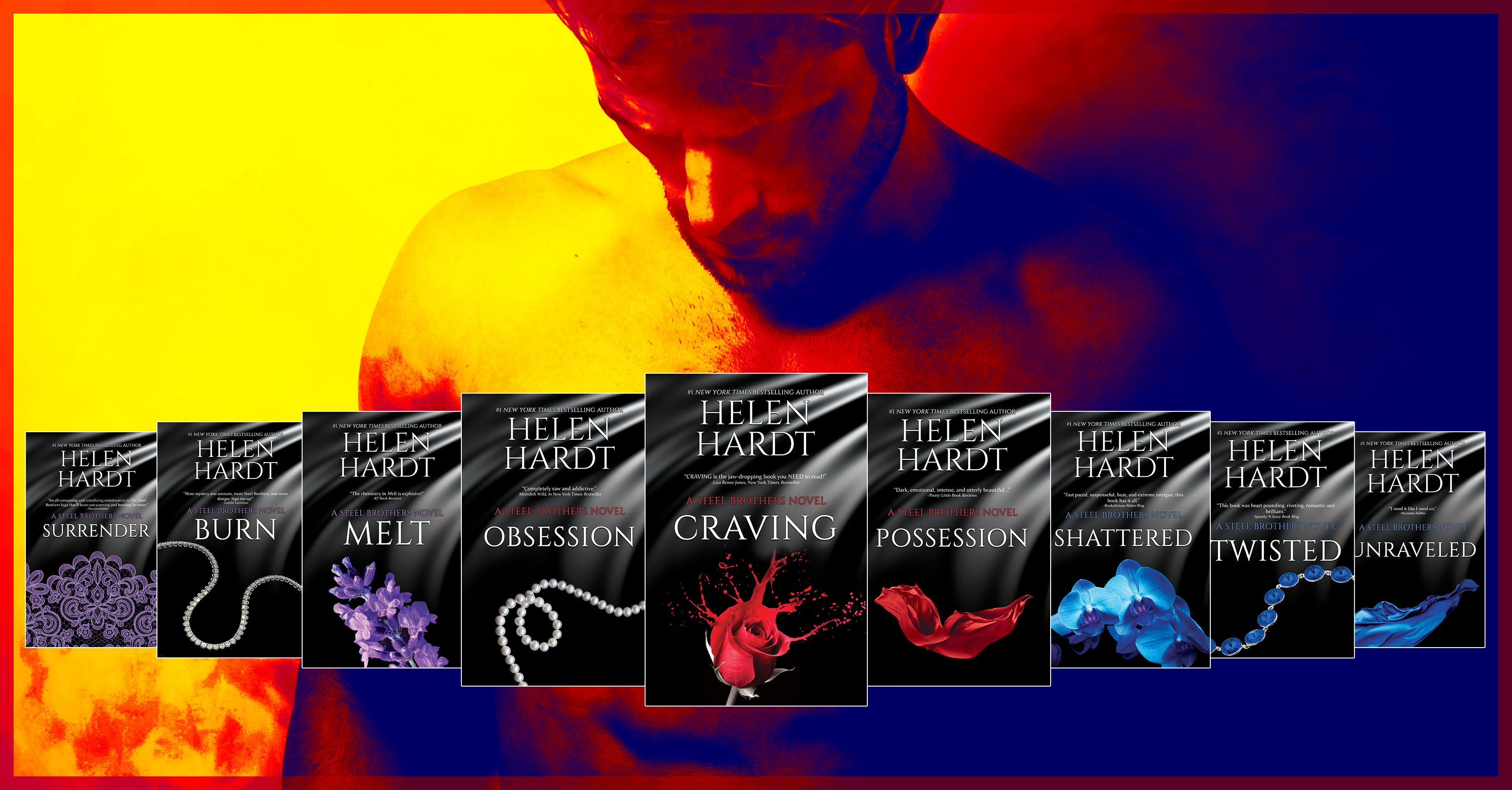 Written by Helen Hardt
Read by Sebastian York, Neve Navarre, Teri Clark Linden, Aiden Snow, Alexander Cendese, Lucy Rivers, John Lane, Lauren Rowe, M. Hendley
Format: MP3
Bitrate: 64 Kbps
Unabridged
Book 1: Craving
After being left at the altar, Jade Roberts seeks solace at her best friend's ranch on the Colorado western slope. Her humiliation still ripe, she doesn't expect to be attracted to her friend's reticent brother, but when the gorgeous cowboy kisses her, all bets are off.
Talon Steel is broken. Having never fully healed from a horrific childhood trauma, he simply exists, taking from women what is offered and giving nothing in return…until Jade Roberts catapults into his life. She is beautiful, sweet, and giving, and his desire for her becomes a craving he fears he'll never be able to satisfy.
Passion sizzles between the two lovers…but long-buried secrets haunt them both and may eventually tear them apart.
————————————————————–
Book 2: Obsession
Jade Roberts is in love with Talon Steel but no longer welcome in his home. While she resolves to move on, she still longs for the passion she and Talon shared…and when her boss asks her to dig up information on the Steels, she's only too happy to comply. Talon and his brothers are hiding something, and Jade is determined find out what it is. The moment Talon saw Jade he wanted her, ached for her, craved her…and now his desire has become his obsession. He knows she deserves better than his broken soul, but he can't stay away from her, and he finally confesses his love. If he and Jade are to have a future, he knows he must make peace with the dark shadows and horrors of his past. But as Talon begins his journey of healing, Jade uncovers some startling secrets…
————————————————————–
Book 3: Possession
Jade Roberts's love for Talon Steel is the real deal, and she's more determined than ever to help him come to grips with whatever is haunting him. To that end, she continues her investigation of the Steels…and unknowingly attracts some dangerous foes from their shrouded history. Talon loves Jade deeply and longs to possess her forever, so he faces his worst fears and exposes his rawest wounds in an attempt to heal. The road is icy and treacherous, but if he perseveres and comes out whole on the other side, he'll finally be worthy of Jade's love. The untamed passion between the two still blazes, but as the horrors of Talon's past resurface, Jade and Talon aren't safe.…
————————————————————–
Book 4: Melt
Jonah Steel is intelligent, rich, and hard-working. As the oldest of his siblings, he was charged by his father to protect them.
He failed in the worst way.
Dr. Melanie Carmichael has her own baggage. Although the renowned therapist was able to help Jonah s brother, she is struggling with feelings of inadequacy. When the oldest Steel walks into her office seeking solace, she can t turn her back.
As Melanie and Jonah attempt to work through their issues together, desperately trying to ignore the desire brewing between them, ghosts from both their pasts surface and danger draws near."
————————————————————–
Book 5: Burn
Jonah Steel is knee deep into trying to solve the mystery surrounding his family and his brother's abduction, and the arrival of his best friend has complicated the situation…although not as much as his infatuation with his brother's therapist, Dr. Melanie Carmichael. The quiet humility of the blond beauty has him enthralled, and he burns for her as he never has for any woman.
Melanie Carmichael is intelligent and driven, yet filled with regret. She has fallen in love with gorgeous Jonah Steel, but fears she may never be able to tell him. The demons from her past have come for her… and she may not get out alive.
————————————————————–
Book 6: Surrender
Jonah Steel has fallen in love with Melanie Carmichael but refuses to make a commitment until he has solved the mystery of his family s past. A new threat has surfaced, and he needs to eliminate it.
Melanie loves Jonah but has yet to surrender completely to his needs. Still, she wants a promise that he can't yet make. While the ghosts of her past still hover around her, she joins him on his quest for answers. Together, they vow to find the truth.
But the deeper they dig, the more danger they uncover "
————————————————————–
Book 7: Shattered
Ryan Steel is known in Snow Creek as the handsomest Steel brother with the most jovial personality. Now that his busy grape harvest and winemaking season is over, he's happy to spend time with his family and help his brothers, Talon and Jonah, celebrate their impending nuptials. The Steels are taking a well-deserved break from the conspiracy surrounding them…until an unlikely woman and a long-buried secret shatter Ryan's world.
Detective Ruby Lee has been on her own since she was fifteen. When her past collides with the Steel family's mysteries, she's determined to find the truth. She has her own issues, and she's not looking for a relationship, despite her all-consuming attraction to Ryan Steel. The gorgeous dark-haired man gets under her skin anyway…and he needs her.
Together they explore both of their histories, but those pasts could cost them a future.
————————————————————–
Book 8: Twisted
Ryan Steel, his world recently upended by an earth-shattering secret, now faces yet another potential revelation surrounding the Steel family mystery. He no longer fully trusts his siblings or the woman he loves. He's alone—alone and terrified and immersed in a conundrum that becomes more twisted each day.
Ruby Lee loves Ryan and desperately wants to help him. She'll do whatever she must to see him through this troubling time, but her own shrouded past still haunts her, and she's determined to put an end to both of their mysteries once and for all. But the more she uncovers, the more danger she's in…and she may lose Ryan forever.
————————————————————–
Book 9: Unraveled
Ryan Steel and Ruby Lee are in love, but before they can move forward with a life together, they're determined to bring resolution to the many unanswered questions they still face. To complicate matters, new threats arise with the arrival of two startling figures from their pasts.
As they race against time to find answers, unexpected forces pull them apart. Ryan's brothers, Talon and Jonah, rally to help, wanting to end the struggle and finally bring the last perpetrators to justice. But another riddle surfaces, deepening the rift between Ruby and Ryan. Will they salvage their relationship and finally unravel the mysteries surrounding them?
————————————————————–
Book 10: Breathless
Marjorie Steel is still healing from the events of the past year, and she's happy to put her plans to study culinary arts on hold to help her best friend deal with a difficult pregnancy and two recently adopted troubled boys. The fact that Bryce Simpson spends a lot of time at the Steel Ranch is a benefit, and she's ready to see if her attraction to him might be something more.
Bryce wants to do a hard day's work on the ranch. Once his muscles give out and he collapses from exhaustion, maybe he'll stop torturing himself over his late father's horrific double life. The Steels have a different idea. They ask Bryce to take an executive position complete with a profit share. As he has a young son and widowed mother to support, it's an offer he can't refuse. The only catch is Marjorie. She's beautiful, smart, feisty, and her kisses set him on fire. But he's an empty shell with nothing to offer her, and she deserves the world.
As the sins of his father continue to haunt him, Bryce learns the horrors of the past may not yet be buried.
————————————————————–
Book 11: Ravenous
Bryce Simpson did the only thing he could. He spurned Marjorie Steel. Even though he'll be living on her ranch, he is determined to stay away from her. She's worthy of more than he can even think about giving, especially now that long-buried memories are surfacing and he's learning that his father's sins may go even deeper than he imagined.
Bryce's rejection destroys Marjorie, and she descends to a dark place she thought she'd abandoned forever. She emerges stronger, though, and is determined not to let heartbreak rule her life. Change is the answer, she's sure, so she makes plans—plans that include a handsome personal trainer she meets at the gym.
When Bryce and Marjorie are thrown together, though, their ravenous hunger for each other takes over, leaving both of them more vulnerable than they realize
Announce URL:
This Torrent also has several backup trackers
Tracker:
udp://tracker.opentrackr.org:1337/announce
Tracker:
udp://tracker.leechers-paradise.org:6969/announce
Tracker:
udp://tracker.coppersurfer.tk:6969/announce
Tracker:
udp://tracker.open-internet.nl:6969/announce
Tracker:
udp://tracker.tiny-vps.com:6969/announce
Tracker:
udp://open.demonii.si:1337/announce
Tracker:
udp://tracker.torrent.eu.org:451/announce
Tracker:
udp://thetracker.org:80/announce
Tracker:
http://open.trackerlist.xyz/announce
Tracker:
http://tracker2.dler.org/announce
Tracker:
udp://tracker.leechers-paradise.org:6969
Tracker:
udp://tracker.coppersurfer.tk:6969
Tracker:
http://tracker2.dler.org:80/announce
Creation Date:
Fri, 15 Nov 2019 14:37:50 +0000
This is a Multifile Torrent
1. Craving.mp3 174.54 MBs
10. Breathless.mp3 226.83 MBs
11. Ravenous.mp3 171.51 MBs
2. Obsession.mp3 175.57 MBs
3. Possession.mp3 166.71 MBs
4. Melt.mp3 161.26 MBs
5. Burn.mp3 169.31 MBs
6. Surrender.mp3 226.46 MBs
7. Shattered.mp3 226.55 MBs
8. Twisted.mp3 224.94 MBs
9. Unraveled.mp3 236.09 MBs
Combined File Size:

2.11

GBs
Piece Size:

4

MBs
Comment:
Updated by AudioBook Bay
Encoding:
UTF-8
Info Hash:
f1e116390249a18365068d1d55258d065c9900c5
Torrent Download:
Torrent Free Downloads
Tips:
Sometimes the torrent health info isn't accurate, so you can download the file and check it out or try the following downloads.
Direct Download:
Download Files Now
Tips:
You could try out alternative bittorrent clients.
Secured Download:
Start Anonymous Download
AD: